Fourth Annual Arctic Encounter Symposium - April 13-14, 2017
seattle, wa, usa | proudly hosted by alaska airlines and stoel rives llp
produced and directed by kallander & associates at the bell harbor international conference center
The 2017 AES will be held at the Bell Harbor International Conference Center on the downtown waterfront of Seattle, WA, USA on April 13-14, 2017. The strategic theme of the 4th annual AES - Shifting North: A New Era in the Arctic - which will confront challenges and engage solutions regarding the shifting environmental, economic, and political climate of today's Arctic regions.
As the largest annual Arctic policy conference in the United States, the Arctic Encounter convenes policymakers, industry leaders, and experts to confront emerging challenges in Arctic policy, innovation, and development. The mission of AES is to raise awareness, engage challenges, and develop solutions for the future of the Arctic region and the people who live there.
AES 2017 will build off of the success of the 2016 Symposium by continuing to bring world-class speakers to dialogue, debate and collaborate with participants from around the world. To review the participating speakers and sponsors at AES 2016, please click here.
- CONFIRMED AES 2017 SPEAKERS -
U.S. Senator Lisa Murkowski, Alaska

Ambassador Geir H. Haarde, Iceland

Ambassador Kåre R. Aas, Norway

The Honorable Aleqa Hammond, Member of the Danish Parliament; former Prime Minister of Greenland

Vice Admiral Fred Midgette, Commander, Pacific Area Defense Force West, U.S. Coast Guard

Congresswoman Suzan DelBene, 1st Congressional District of Washington State

Congressman Don Young, Alaska

U.S. Senator Angus King, Maine [Video Message]

U.S. Senator Dan Sullivan, Alaska [Video Message]

Mr. Tero Vauraste, President & CEO of Arctia Ltd.; Vice Chair of the Arctic Economic Council (AEC) [Video Message]

Ms. Fran Ulmer, Chair, U.S. Arctic Research Commission

Rear Admiral Michael McAllister, Commander, Seventeenth District, U.S. Coast Guard

Dr. Brendan Kelly, Executive Director of the Study of Environmental Arctic Change (SEARCH); former Assistant Director for Polar Science, The White House; former Chief Scientist at the Monterey Bay Aquarium

Ms. Gail Schubert, President & CEO of the Bering Straits Native Corporation

Ms. Tina Pidgeon, General Counsel, Chief Compliance Officer, and Senior Vice President of Governmental Affairs for GCI

Mr. Stefan Lindström, Consul General, Consulate General of Finland in Los Angeles

Commodore Angus Topshee, Deputy Director, Strategy, Policy and Plans NORAD-USNORTHCOM J5

Ms. Melanie Bahnke, President & CEO, Kawerak, Inc.; Tribal Member of the Native Village of Savoonga, Alaska

Mr. Joseph Sprague, Senior Vice President, Communications & External Relations, Alaska Air Group

Mr. Dermot Loughnane, CEO, Tactical Marine Solutions Ltd.

Mr. Randy "Church" Kee, Maj Gen, USAF (Ret.), Executive Director, Arctic Domain Awareness Center, University of Alaska

Ms. Barbara Blake, Senior Advisor, Office of the Governor & Lt. Governor of Alaska

Ms. Beth Kerttula, former Director of the National Ocean Council in the Executive Office of the President and former Alaska State Representative

Ms. Dana Goodson, Senior Program Manager, U.S. Institute for Environmental Conflict Resolution, Udall Foundation

Mr. Mead Treadwell, Chairman, Arctic Circle Task Force on Shipping and Ports; President, PT Capital

Mayor Clay Koplin, CEO, Cordova Electric Cooperative; Mayor of the City of Cordova, Alaska

Ms. Meera Kohler, President & CEO, Alaska Village Electric Cooperative, Inc.

Dr. James Kendall, Regional Director, Alaska Outer Continental Shelf Region, Bureau of Ocean Energy Management

Ms. Elizabeth Pierce, CEO, Quintillion Networks, LLC

Ms. Gwen Holdmann, Director, Alaska Center for Energy and Power

Mr. George Roe, Research Professor, Alaska Center for Energy and Power

Mr. James Hill, Consul General, Consulate General of Canada in Seattle

Dr. Robert Bindschadler, NASA Emeritus Scientist

Mr. Sean Dwyer, Captain of the F/V Brenna A, as featured on the "Deadliest Catch"; Vice President, St. George Marine Inc.

Mr. Gary Hennigh, City Administrator, City of King Cove, Alaska

Mr. Ephraim Froehlich, Fisheries, Wildlife and Arctic Policy Advisor, The Office of U.S. Senator Lisa Murkowski

Dr. Matthew Druckenmiller, Scientist, Study of Environmental Arctic Change (SEARCH) Sea Ice Action Team & National Snow and Ice Data Center

Mr. Chris Oliver, Executive Director, North Pacific Fishery Management Council (NPFMC)

Mr. Spencer Wood, Lead Scientist, Natural Capital Project; World Wildlife Fund

Ms. Mary Ruckelshaus, Managing Director, Natural Capital Project; World Wildlife Fund

Ms. Jess Silver, Natural Capital Project, Ecosystem Services Analyst; World Wildlife Fund

Ms. Christine Resler, Alaska GeoMarket Manager, Schlumberger

Mr. Anthony E. Edwardsen, President & CEO, Ukpeaġvik Iñupiat Corporation

Ms. Lindsey Whitt, External Affairs, Matson

Ms. Becca Robbins Gisclair, Associate Director of Arctic Programs, Ocean Conservancy

Ms. Susan Bell, Principal, McDowell Group

Ms. Julie Decker, Museum Director and CEO, Anchorage Museum

Captain Dan Blanchard, Owner & CEO, UnCruise Adventures

Ms. Alice Rogoff, Publisher, Alaska Dispatch News; Co-Founder, Arctic Circle

Mr. Greig Arnold, Vice Chairman, Makah Tribal Council

Mr. Doug Mecum, Deputy Regional Administrator, Alaska Region, National Marine Fisheries Service (NMFS)

Ms. Rachel Kallander, Founder & Executive Director, Arctic Encounter Symposium; Managing Partner, Kallander & Associates LLC

Mr. Cale Clingenpeel, Managing Director, Arctic Encounter Symposium; Partner, Kallander & Associates LLC

Mr. Kaleb Froehlich, Senior Advisor, Arctic Encounter Symposium; Vice President, Cassidy & Associates

Mr. Tom Roberts, Partner, Van Ness Feldman, LLP

Ms. Megan Alvanna Stimpfle, Principal, Arctic Geopolitical Consulting

Ms. Liz Cravalho, Vice President of External & Government Affairs, NANA Regional Corporation

Ms. Marilyn Romano, Regional Vice-President (Alaska), Alaska Airlines

Mr. Shannon Jenkins, Senior Arctic Policy Advisor, U.S. Coast Guard

Ms. Kate Wolgemuth, Legislative Assistant, The Office of U.S. Senator Dan Sullivan

Ms. Tina Grovier, Partner, Stoel Rives LLP, Environmental, Land Use, and Natural Resources Group

Mr. Aaron M. Schutt, President & CEO, Doyon Ltd.

Mr. Joshua Kindred, Environmental Counsel, Alaska Oil and Gas Association

Mr. Jonathan Iversen, Partner, Stoel Rives LLP, Benefits, Tax, and Private Client Group

Mr. Jared Wigginton, Attorney, Stoel Rives LLP, Environmental, Land Use, and Natural Resources Group

Dr. Lance Miller, Vice President, Natural Resources, NANA Regional Corporation, Inc.

Mr. Ryan Steen, Partner, Stoel Rives LLP, Environmental, Land Use, and Natural Resources Group

Mr. James Torgerson, Managing Partner, Stoel Rives LLP; 2017 Arctic Encounter Host Partner

Ms. Amy Bann, Director, Sustainable Materials, The Boeing Company

Ms. Sara Longan, Executive Director, North Slope Science Initiative (NSSI)

Mr. Patrick Galvin, Chief Commercial Officer, Great Bear Petroleum Operating LLC

Mayor Harry K. Brower, Jr., North Slope Borough

Mr. Garrett Boyle, Legislative Director, The Office of U.S. Senator Lisa Murkowski

Mr. Casey Pape, President of the AES Board of Directors; Business Manager, Viking Marine

Mr. Steve Wackowski, Vice President of the AES Board of Directors; Fairweather Science LLC

Ms. Jenny Gore Dwyer, Secretary of the AES Board of Directors; Owner & President, St. George Marine Inc.

Ms. Kristina Woolston, Vice President of External Affairs, Quintillion
- AES 2017 GUEST PERFORMANCE ART & INSTALLATIONS -
- AES 2017 PLATINUM SPONSORS AND STRATEGIC HOST PARTNERS -
- AES 2017 SILVER LEVEL SPONSORS -
- AES 2017 BRONZE LEVEL SPONSORS -
- AES 2017 EDUCATIONAL PARTNERS -
PHOTO GALLERY OF THE THIRD ANNUAL ARCTIC ENCOUNTER SEATTLE IN JANUARY 2016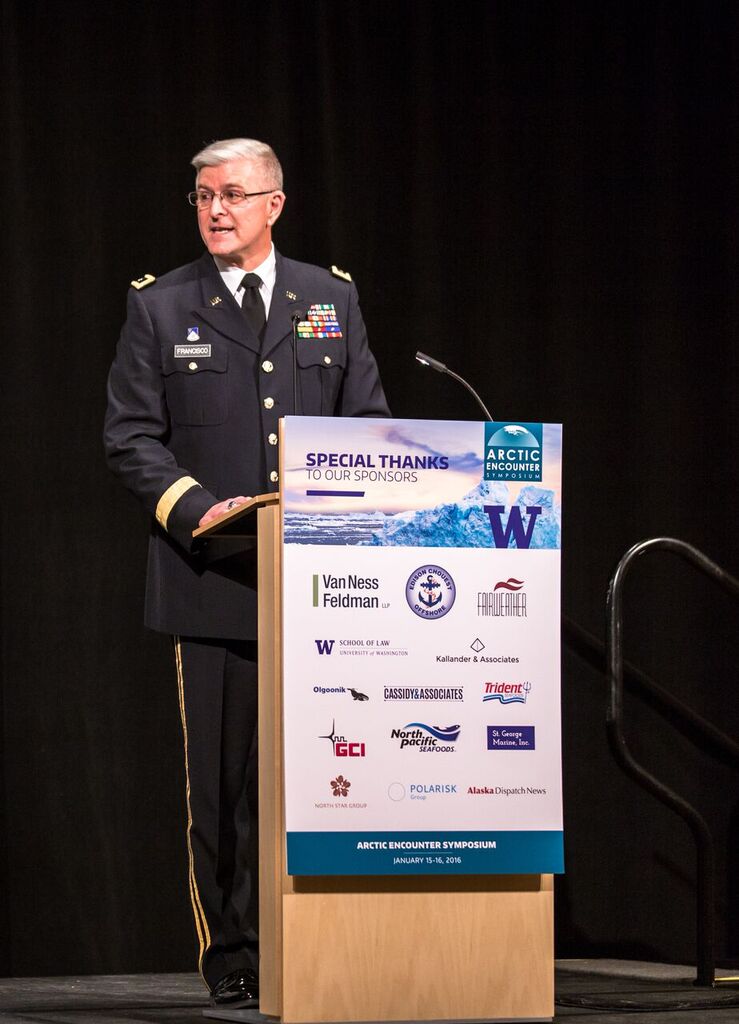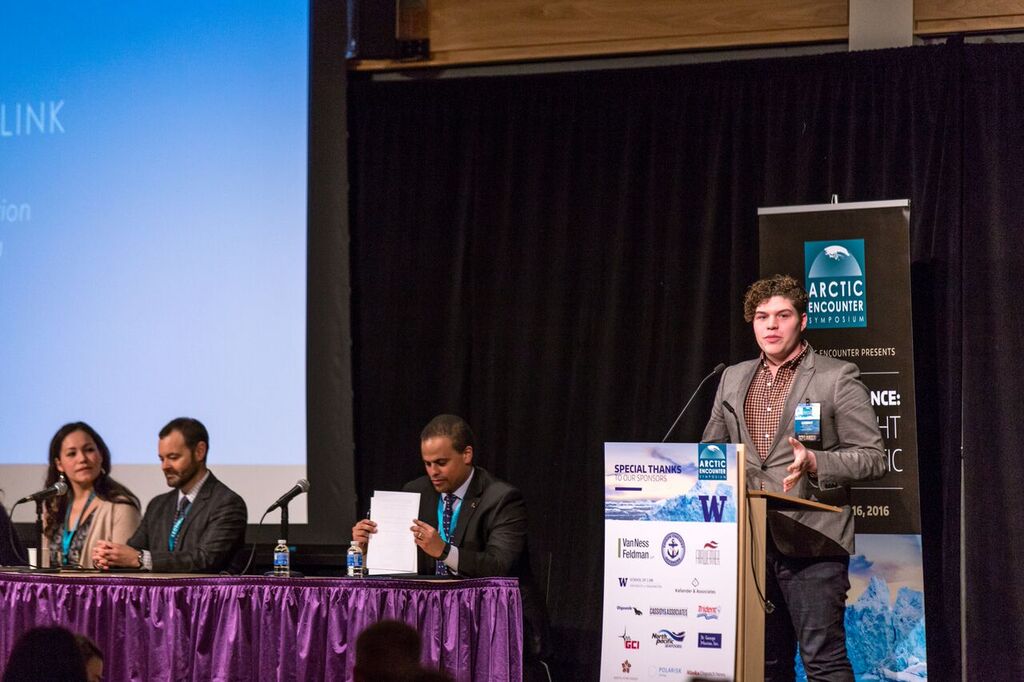 - STAY UP TO DATE WITH THE LATEST AT AES VIA TWITTER -